IS THE LEATHER RECLINER SUITABLE FOR SUMMER?
Leather recliners are largely misconstrued to be "hot in hot weather and cold in cold weather". This is not entirely true as leather is largely influenced by the temperature of the room it is placed in. In the warmer months of spring and summer, a leather recliner will feel warmer due to the temperature of the room being higher. In the colder months of autumn and winter, your leather recliner will feel cooler due to the room being cooler. Unlike fabric, leather has the unique ability to take on the temperature of the room it is in. This makes leather the perfect upholstery type for all weather. If you keep your living room cool in summer and spring by having air conditioning on or a fan running, your leather recliner will be nice and cool, and if you keep your lounge nice and warm with the help of a heater or fireplace, you leather lounge suite will be warm as well.
FABRIC, REAL LEATHER AND FAUX LEATHER RECLINER WHICH ONE IS MORE SUITABLE FOR SUMMER?
Judging from the cool feeling and sensation, my advice is: linen > real leather > fabric > faux leather
There is no doubt that some cool feeling fabrics such as linen are designed for summer, even if you sweat, you will not have a sticky feeling. Compared to real leather and fabric, I recommend leather, cool to the touch and easy to take care of. Especially in the air-conditioned room, you can get double the coolness. If your fabric recliner is stained with sweat or drinks, it can produce very high levels of bacteria in the heat of summer. It is also very difficult to clean. Imitation leather recliner is not recommended, not breathable, and the touch is poor.
Therefore, I recommend buying Resteal REAL LEATHER LIFT RECLINERS, the comfortable and breathable high-grade cowhide will give you a very good experience. The most important thing is that it also has lift and vibration massage function, you can spend time in the air-conditioned room with it!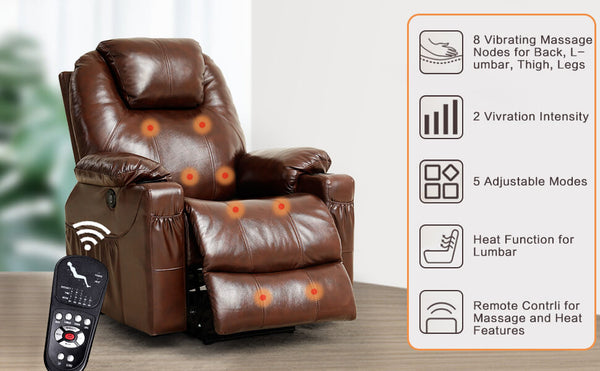 Restreal Brown Leather Lift Recliner
HOW TO ACCLIMATISE LEATHER RECLINER
1. MAINTAINING THE ROOM TEMPERATURE
Leather furniture has the unique ability to adapt to the temperature of the room. The best way to acclimatise your leather furniture is to maintain the temperature of the room. If you keep your living room nice and cool then your leather recliner will also start to feel cooler to the touch. If you prefer to have the heater on or have a fireplace in your lounge, you can enjoy a warmer feeling leather recliner.
2. CHOOSING A LIGHT COLORED LEATHER
Besides the temperature of the room, the colour of the leather can also have a slight impact on its temperature. Similarly, to our hair and skin, and colors in general, light colors reflect the heat while darker colors absorb it. Lighter Color leather recliner it will feel slightly cooler than a darker color
3. KEEPING IT AWAY FROM THE SUN
Whether you have a leather or fabric lounge suite, we recommend that neither are placed in direct sunlight as it can cause severe damage to both upholstery types. If you expose your leather recliner to direct sunlight for prolonged periods of time the UV rays will cause permanent damage to the surface of the leather.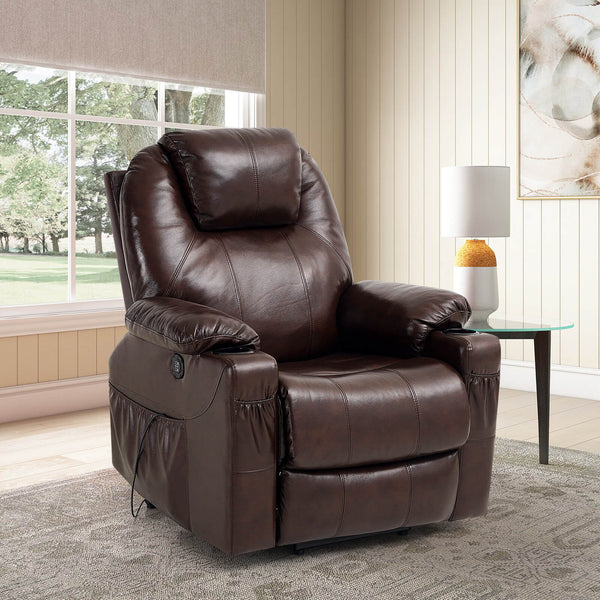 Finally, if you are interested in a leather recliner, or if you and your family happen to be in need of a lift recliner, please shop on restreal.com. Here are what you want!!